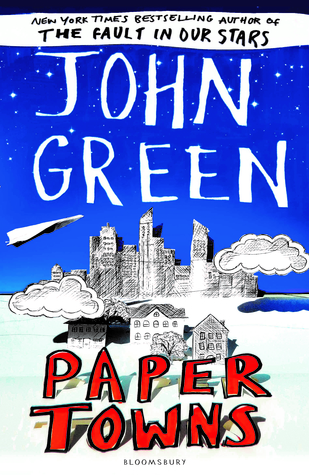 Book Summary :
Quentin has always loved Margo Roth Spiegelman, for Margo (and her adventures) are the stuff of legend at their high school. So when she one day climbs through his window and summons him on an all-night road trip of revenge he cannot help but follow.
But the next day Margo doesn't come to school and a week later she is still missing. Q soon learns that there are clues in her disappearance . . . and they are for him. But as he gets deeper into the mystery – culminating in another awesome road trip across America – he becomes less sure of who and what he is looking for.
Masterfully written by John Green, this is a thoughtful, insightful and hilarious coming-of-age story.
My Rating :
4 of 5 stars
My Thoughts :
John Green's books are like sugar candies. Sweet and fluffy and addictive. With John Green's classy prose, the plot was definitely engaging enough to engulf any reader, but having read The Fault in Our Stars first, I found it little let-down in comparison to TFIOS.
Margo Roth Spiegelman and Quentin Jacobson are neighbors since childhood. While Margo is cheerful and full of live, a bluff-master and a maverick, Quentin is just the opposite. Their friendship remained into category of 'just-friends' until one night Margo suddenly shows up in Q's window and persuades him to become her official driver-cum-partner-in-crime in eleven mischievous (some revengeful) acts that needs to be accomplished on the same night. Those impish acts range from exposing a lecherous relationship between her ex-boyfriend Jase and her best friend Becca, to breaking into the highly secured SunTrust building.
Though the whole night Q enacted the role of a fearsome guy, but still those were the hours when he could actually anticipate what Margo is all about. Not to mention, his likeness for her starts morphing into something more than that. And, as expected, after the night he expected their friendship to grow. However, he is proven wrong. The next day Margo is gone and a week later she is still missing. Unlike the previous times she eloped leaving everyone clueless with her strange clues, Q leans this time she left clues only for him.
For she is Margo-the-maverick, her clues lead Q to nowhere.
The story then accelerates its engage-charm when Q becomes desperate to find Margo, accompanied by his three friends Ben, Rader and Lacey in this search mission. And here is John Green's wizardry. He made the story to be told from a wannabe graduate Q's perspective unfolding many thought elements which are so much accurate and primitive for existence.
View all my reviews