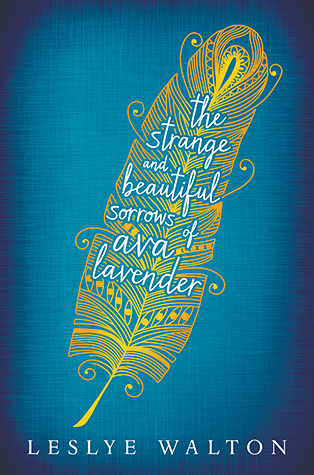 Book Summary :
Foolish love appears to be the Roux family birthright, an ominous forecast for its most recent progeny, Ava Lavender. Ava—in all other ways a normal girl—is born with the wings of a bird.
In a quest to understand her peculiar disposition and a growing desire to fit in with her peers, sixteen-year old Ava ventures into the wider world, ill-prepared for what she might discover and naïve to the twisted motives of others. Others like the pious Nathaniel Sorrows, who mistakes Ava for an angel and whose obsession with her grows until the night of the Summer Solstice celebration.
That night, the skies open up, rain and feathers fill the air, and Ava's quest and her family's saga build to a devastating crescendo.
First-time author Leslye Walton has constructed a layered and unforgettable mythology of what it means to be born with hearts that are tragically, exquisitely human.
My Rating :
5 of 5 stars
My Thoughts :
"Love makes us such fools."
The Strange and Beautiful Sorrows of Ava Lavender is the kind of book that stabs you right in the gut with its earnestness and insight.
Time, when we dwell on memories, helps us see scattered fragments of the past in a clearer light. Some moments are brighter and some darker—strange and beautiful that haunts you forever.
Like The Strange and Beautiful Sorrows of Ava Lavender.
A story of an entire family. A hypnotic generational saga of their love like curse and losses they faced, the pain and passion and obsession of tragic youth. Heart-wrenching and leaves the reader depleted, disintegrate into infinite shards.
"To many, I was myth incarnate, the embodiment of a most superb legend, a fairy tale. Some considered me a monster, a mutation. To my great misfortune, I was once mistaken for an angel. To my mother, I was everything. To my father, nothing at all. To my grandmother, I was a daily reminder of loves long lost. But I knew the truth — deep down, I always did.

I was just a girl."
No doubt Leslye Walton's writing deserves a huge round of applauds because of its romanticism, lyrical prose and bittersweet view towards harsh realities. The writing was simply haunting and compelling, layered with so many inexplicable emotions I'm still struggling to grasp at. It wasn't exaggerated when Walton's prose was compared to Gabriel Garcia Marquez's. The author's depiction of Pinnacle Lane the most atmospheric I have ever come across, her portrait of the lives, their hopes and dreams and disappointments were vivid, melding together in wave the comes crashing upon the readers.
When I finished the book, all did was to clutch it, and lay in my bed, with tears rolling down my cheeks. I never felt so broken since I read The Storyteller two years ago, which, not to mention, craved my heart out of my chest.
The Strange and Beautiful Sorrows of Ava Lavender is probably—no, most definitely the best read of this year so far.
View all my reviews