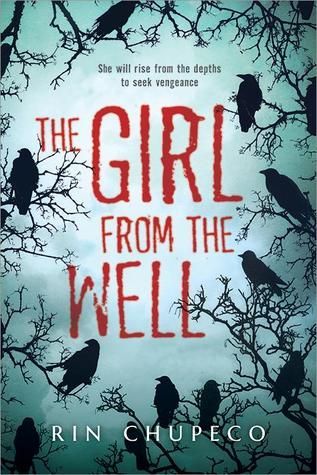 Book Summary :
A dead girl walks the streets.
She hunts murderers. Child killers, much like the man who threw her body down a well three hundred years ago.
And when a strange boy bearing stranger tattoos moves into the neighborhood so, she discovers, does something else. And soon both will be drawn into the world of eerie doll rituals and dark Shinto exorcisms that will take them from American suburbia to the remote valleys and shrines of Aomori, Japan.
Because the boy has a terrifying secret - one that would just kill to get out.
The Girl from the Well is A YA Horror novel pitched as "Dexter" meets "The Grudge", based on a well-loved Japanese ghost story.
My Rating :
3.5 of 5 stars
My Thoughts :
"I am where dead children go."
For a book that stars with such line, it is sure as hell creepy, if not creepier like The Ring or Shutter, as the blurb promised us. Nonetheless, the book was dark and enjoyable. There were violence, gory and gritty enough for a YA standards.
The book starts with Okiku, a soul floating in dreamless trance, constantly watching over lives and other spirits like her. She sees a man carrying a weight of the girl he murdered, unaware of her decaying existence on his shoulders. But Okiku notices how her thin bony arms clasped about his neck and her legs balanced against his back, silently acknowledging presence of another nonentity just like her.
She also notices Tarquin a.k.a Tark from afar, a tortured young man. She senses having something malevolent in him and developed likeness, which at first was bit difficult for me to accept, however, I slowly grown to like their bond for was a bit slower to become likable but, once everything he went through is known, you can't help but feel for him. Both were characters I could easily sympathize with.
The Writing:
Where some lines boasted their own beauty, gorgeous even, as a whole the writing felt inconsistent. Maybe because the sudden switching between first person narratives to third person narratives.
"You may think me biased, being murdered myself. But my state of being has nothing to do with the curiosity toward my own species, if we can be called such. We do not go gentle, as your poet encourages, into that good night."
Also,
The tattooed boy is still sleeping on the cot, unmoving. His feet are
shackled, and his face is worn. Neither the girl nor the Smiling Man
crushkillcrushkillKILLKILL
sees the small blanket of black that rises around his form, though
in the small trickle of light it seems larger somehow, like it gains its
strength from places such as these.
And,
Something else blocks his vision.
The Smiling Man finds himself looking at a
woman
on the ceiling. The glow of candlelight catches only her face,
her long hair hanging down, and her bright black eyes. She is only
inches away, and she
gurgles.
It is the Smiling Man's turn to scream, and the brief light is
suddenly extinguished.
Overall, The Girl from The Well, inspired by Japanese folktale
Banchō Sarayashiki
,
is a haunting and atmospheric novel. Recommended for the fans of a good ghost story.
About The Author :
Despite an unsettling resemblance to Japanese revenants, Rin always maintains her sense of hummus. Born and raised in Manila, Philippines, she keeps four pets: a dog, two birds, and a husband. Dances like the neighbors are watching.
Her work, The Girl from the Well, is a YA psychological horror novel due out in Fall 2014, pitched as "Dexter" meets "The Grudge". She is represented by Nicole LaBombard and Rebecca Podos of the Helen Rees Agency.
You can visit her on her
website
.
View all my reviews