\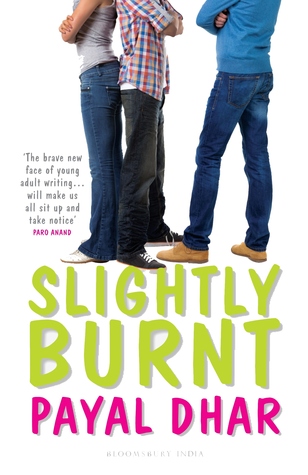 Book Summary :
"Sahil was going to say it, no matter what stunt I pulled and then things would be all weird between us, because, you know, I just didn't feel that way about him."
Sahil has been Komal's very best friend since, well, forever. Which is why she doesn't want to hear his confession. But there isn't much she can do to stop him from saying what he has to say. When her brother gets unwittingly tangled in the whole mess that ensues, Komal finds that she is out of her depth and in desperate need of help.
Slightly Burnt is a fresh take on coming of age in India.
My Rating :
4 of 5 stars
My Thoughts :
Slightly Burnt is a book that requires quite a nerve to be penned down at the haphazard Indian social milieu, which recently banned the '377 IPC law' that has previously empowered homosexuals to rightfully carry forward, by stating it 'unconstitutional'. It's a brave attempt by the author Payel Dhar to showcase and delve up the undercurrent of desires (here a 'teenager') who was denied to choose or even show his feelings just because of societal defensiveness. The manner in which the issues had been addressed and dealt with without sentimentalizing or overstepping the boundary by bringing up unnecessary angst, is remarkable.
Regarding the flow of the story, it started with a suspicious way where in a congestive parking area Komal is shocked to hear those 'three' words from her childhood best friend, Shahil. Though she didn't actually hear Shahil confess those words 'I love you' to her, she pretty much assumed they were meant for her. Nearly half the story later, when we are pretty much exhausted of guessing, the author intelligently revealed it which can be deciphered as 'I am gay." From this point onward, the author became careful in threading her plots and grooming her characters, showing their worst and best emotional states.
The writing style was light, infused with humor and occasional in-depth philosophies, and each of the characters shines through the book. The author had wisely chosen her protagonist—a sixteen-years-old teen Komal and put her in situations where she learned her best friend and younger brother are in a relationship. Needless to say, here the author did a fascinating job in layering both the plot and the characters in a very judicious way to outcast the feeling of the protagonist. I adored Komal for accepting her brother and her best friend for who they are, and understanding their relationship in truest sense.
For me, Slightly Burnt was a bittersweet tale of friendship and relationship. I would strongly recommend this book.
View all my reviews